Created: Thursday, 07 December 2017 19:05
Putting together a tutorial or explainer video can be quite the project. From hosting to integration, cameras, scripts, and voice-overs, to making sure your makeup looks flawless, there are a ton of things to worry about.
But now, thanks to Fleeq, tutorial and explainer videos can be created with ease.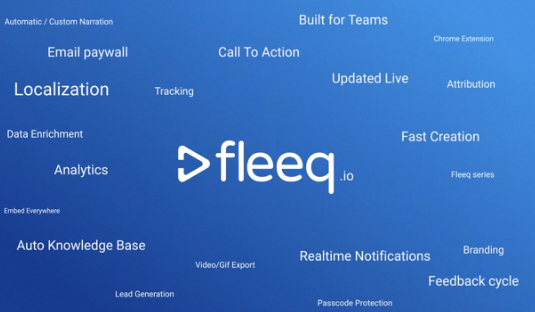 Fleeq is an incredibly easy-to-use production and distribution platform for videos.
With Fleeq, users can create videos for guides, demos, promo videos, and much more.
This means you can make videos for almost every aspect of a business, including:
Helping customers troubleshoot problems
Closing sales deals with stunning visuals
Setting new employees up for success
Sharing content to drive traffic
Creating a video using Fleeq is caveman simple — just take screenshots, mark sections, and add descriptions.
And while they are easy to create, they're also incredibly powerful.
Fleeq videos, or "fleeqs," can track viewing history, usage, and feedback. They can also send real-time notifications.
And, these videos can be shared in a multitude of ways (dedicated page, GIF, embedded popups on your site, or MP4).
Ordinarily, lifetime access to the Fleeq Business Plan is $480.
The Business Plan comes with:
3 Users
50 live fleeqs - but for MAG Fans, they're unlimited!
Logo, favicon, & custom domain
Creator attribution
6 video (MP4 format) exports per month and 12 GIF exports per month
Fleeq localization - one Fleeq that is connected to other languages!
Not only are you getting an infinite number of active fleeqs, but MAG Fans, you can get lifetime access to this powerful video creation tools for just $49!
Click here to get your video creation on Fleeq!
Some of the other tools on the market focus their energy on specific purposes like education or support whereas Fleeq provides flexibility to do more.
Fleeq is allowing you to create an interactive video experience without all of the hard work that normally comes with it.
Fleeq also has certain functionalities that MAG Fans will appreciate.
For example, CTAs at the end of videos to entice customers and newsletter integration.
Selling products via email just got a whole lot easier.
Whether you are in marketing, HR, sales, or customer service, Fleeq is giving you an opportunity to create videos that will help you do amazing things.
Think you'll need more video and gif exports? Stack this deal and get as many as you need!
Fleeq will save you hours and headaches from trying to create tutorials and explainer videos half this good.
So, we strongly suggest you jump on this deal while you can.
Get lifetime access to the Fleeq Business Plan for just $49!